DC Tri Club Forum
{dialogue}
Page: 1
Hands down BETTER than a Smiley fit!
CREATED: 09/15/13 by HappyRunner REPLIES: 5
HappyRunner
JOINED: 1/15/11 POSTS: 281
Hands down BETTER than a Smiley fit!
POSTED: 9/15/13 2:35 PM
Sacrilege to say, I know, but hear me out!
I went through NTP three years ago and got a decent entry-level road bike, which Smiley adjusted to fit me well. But I lusted after those bikes with the rear wheel recessed into the seat post and airfoil shaped tubes. Figured I'd get one after I "earned it."
Well, the time to upgrade came, but I decided to go with all-day comfort through perfect fit instead -- and that meant a custom built bike. I talked to Smiley and he hooked me up with Kelly Bedford, often called the master builder behind the Serotta name. Kelly is now hand crafting bikes under the name "Bedford Customs" and has a lot of experience with titanium, which is what I wanted.
The beginning of the build process was pretty much what you'd expect from Smiley. I was ready to change saddles also, so we spent a few weeks testing three different ones on my current road bike. When I finally picked one, Smiley took precise measurements, let me percolate for a couple of weeks, and then we checked the measurements again. In a classic Smiley move, he contacted me just before the build specs went "final" and said he'd be up for a triple check if I wanted, so we did.
One of the cool things about a custom build is that anything you've seen on a bike or wanted can be incorporated. I picked each of the components, from the drive train right down to the seat post, fork, and even the headset spacers. Of course, Smiley and Kelly had recommendations, so I was able to draw on their knowledge as well. Customization was no problem. I wanted top tube bosses installed -- like the Cervello P5 and Trek Speed Concept have -- so I could bolt on the Dark Speed Works 480D bento box, rather than use Velcro straps. I also toyed with the idea of a special nub to hold the rubber band for "flying squirrel" mounts. Bottom line: its custom, anything you want can be included as you have total control.
When the bike arrived, I was blown away by the build quality. The fit and finish were amazing and the welds were a thing of beauty. Attention to detail was also first rate. For example, small copper "fairings" were placed at the Di2 wiring entry/exit points that not only look cool, but also provide for a little extra thickness so that the rubber wiring grommets engage more securely.
Kelly sent me some pictures during the build process so it was cool to see the bike come together. It was also meaningful to me to have met Kelly and see American craftsmanship at work. Sorta what made this country great before jobs went overseas to cut labor costs and the bottom line became the most important factor.
Of course, the proof of any bike is in the ride, right? It's phenomenal. Fast yet supremely comfortable. Fits me like a glove. It's the difference between an off-the-rack suit even with a good tailor and a hand-made bespoke suit. I did the Nations Tri again and either a lot of slower riders bought expensive bikes since last year or the Bedford is just plain fast!
Highly recommended for anyone considering a new bike!
dhops
JOINED: 7/12/12 POSTS: 125
RE: Hands down BETTER than a Smiley fit!
POSTED: 9/15/13 9:34 PM
I was about to get all up in arms after reading the title of this post, but I'm gad I didn't overreact. :)
I am seriously considering the custom fit as well. I've only heard good things about the Bedfords, and after seeing how much progress I've made after one season on my P3 (that's probably a frame size too small), I'm almost ready to make the leap! There's nobody I'd trust more to do a custom ride, than Smiley and anyone he recommends.
Stay tuned. :)
SeanG
JOINED: 4/8/09 POSTS: 160
RE: Hands down BETTER than a Smiley fit!
POSTED: 9/16/13 9:40 AM
Photos?
dhops
JOINED: 7/12/12 POSTS: 125
RE: Hands down BETTER than a Smiley fit!
POSTED: 9/16/13 11:50 AM
Yes, let's see the finished product!
carrie
JOINED: 2/28/09 POSTS: 18
RE: Hands down BETTER than a Smiley fit!
POSTED: 9/16/13 5:13 PM
Wow! When I first posted in this forum 2.5 years ago about a talented bike fitter I found named Smiley, I never would have imagined that it'd generate over 50 replies and result in countless DC-area triathletes riding their bikes faster and with far more comfort than ever before.
And to have a triathlete now make that next step and get a custom ride? Well, now I'm just plain jealous!
Keep spreading the Smiley love--and yes, pix please!
HappyRunner
JOINED: 1/15/11 POSTS: 281
Since you asked for pictures........
POSTED: 9/30/13 9:21 AM
You really don't have to ask a new parent twice for pictures of their new baby -- so at the risk of going overboard, here are a few I took yesterday: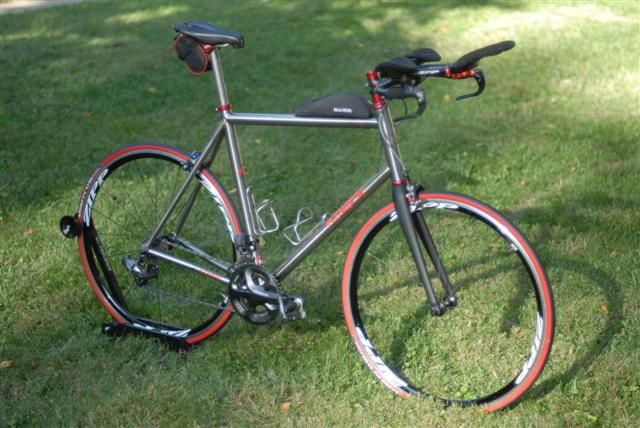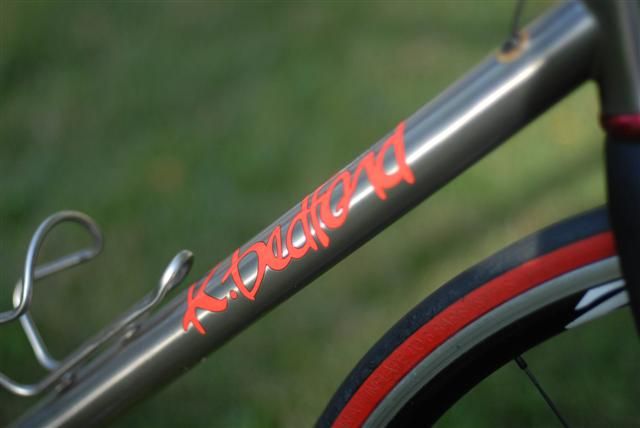 I thought the welds were pretty impressive and the copper inset where the Di2 wiring leaves the tube is functional and also looks pretty cool.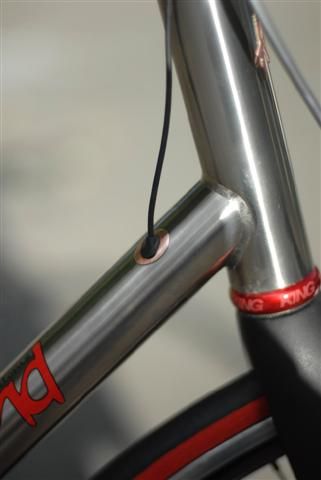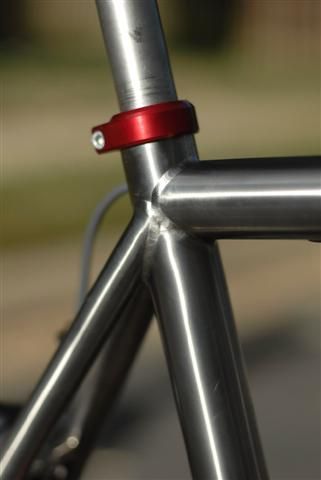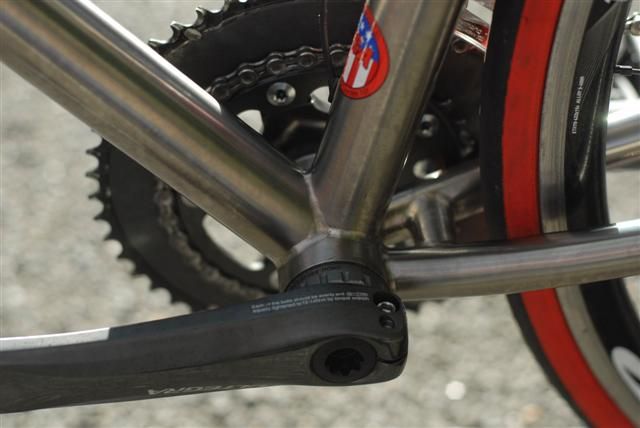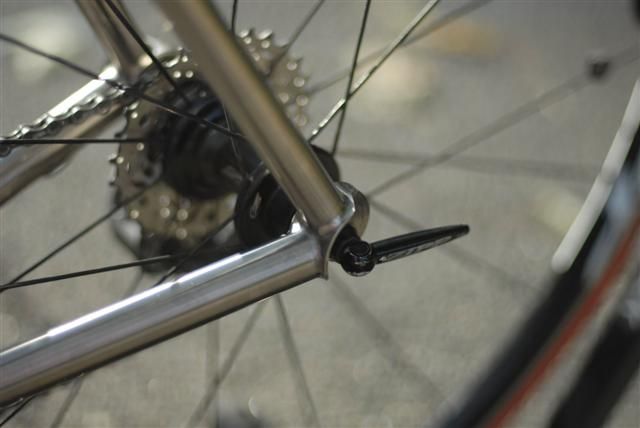 I hacked a Di2 shifter to do use custom switches. You don't have to do this anymore and can buy off-the-shelf from Shimano, but hacking has several advantages. First, you can use whatever switch you want. I used rocker switches in the end of each aerobar -- up shifts up, down shifts down. Second, as for the bullhorns, there are two buttons at each, under some shrink-wrap tubing. This means you can use any brake lever you like. Finally, you can run all four switches from a single pair of Di2 switches, meaning the cost is half.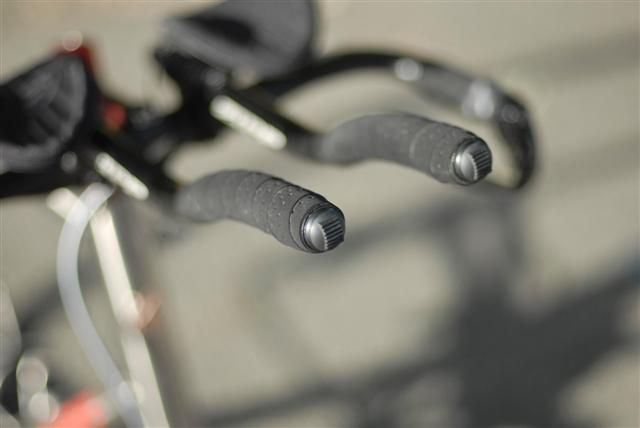 But the best part about the Bedford is that it is a perfect Smiley fit. Comfortable and rides fast. Highly recommended.
Page: 1