DC Tri Club Forum
{dialogue}
Page: 1
HI! I'm Jake
CREATED: 11/02/11 by jakehill REPLIES: 7
jakehill
JOINED: 11/2/11 POSTS: 18
HI! I'm Jake
POSTED: 11/02/11 9:21 PM
Hey! I'm Jake.
I lost my leg last October. I was always a good runner. I never went out of my way to be a great runner. Longest I ever voluntarily ran was 6 miles. I ran my first mile after losing my leg in late Feb. Here is a picture of me sprinting the 100m before I got a running leg.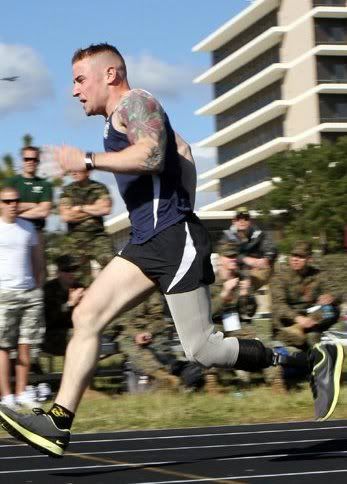 I ran the MC Marathon last weekend in 3:55. Slower than I hoped for sure. I really wanted to be in the 3:45 range. I was running extremely consistent 26 minute 5ks till the 21 mile mark and the crapped the bed. In the last 5 miles I went from running a 3:40 projected finish to a 3:55. I wanted under 4hrs, but I know I could have done better. I'm glad I found this club. I'm really excited to see how running is in the cold!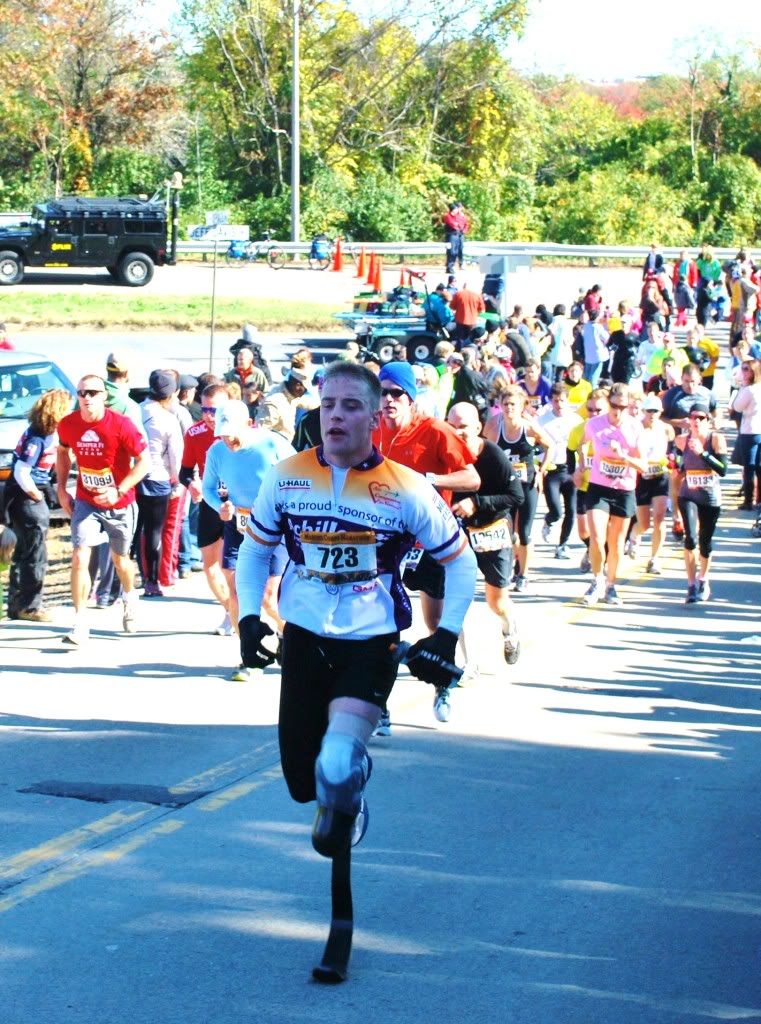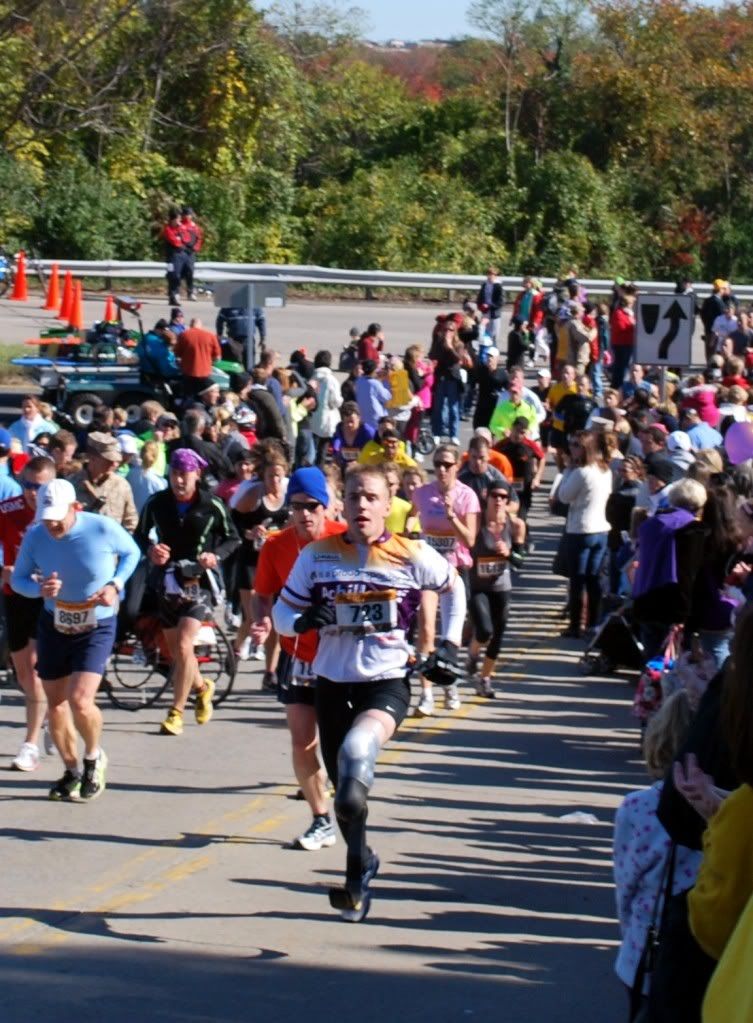 jakehill
JOINED: 11/2/11 POSTS: 18
RE: HI! I'm Jake
POSTED: 11/02/11 9:30 PM
I need to get in the pool and swim. That will be the hardest part. I have always known how to swim. But I never cared to be good at it. I cant wait to meet some people to train with. I would like to continue to run marathons and cut my time down. I wanna compete in tri's. I got a badass bike for free and ride when I get a chance. Since I was running the marathon, I was mainly concerned with running (obviously). But now that I did that, I would like to shift to a more broad set of goals. I do functional fitness type stuff (just thrashing myself in the gym with light weight and box drills and such). I am going to a course in May that will require a lot, swimming wise, and I need to get going!!
dsgrunning
JOINED: 2/28/09 POSTS: 1481
RE: HI! I'm Jake
POSTED: 11/02/11 9:52 PM
Nice pics Jake ... quite inspirational actually.
Consider joining the New Triathlete Program (NTP) when it starts at the beginning of next year. It'll give you a group of people to work out with and a wealth of knowledge to draw from.
DCTri also has a new maters swim program that takes place out of Wilson with coaches that might be able to help you swim better.
Tuan
jakehill
JOINED: 11/2/11 POSTS: 18
RE: HI! I'm Jake
POSTED: 11/02/11 9:58 PM
I totally would! But I need to be a badass swimmer by next March. So all winter locked inside at the pool should be good. Im going to take one of the swim classes offered through the club.
morunner66
JOINED: 2/28/09 POSTS: 728
RE: HI! I'm Jake
POSTED: 11/03/11 10:25 AM
Jake - Great job on the MCM - really truly spectacular. Your experience on mile 21 brings you in with good company, but you held on for a terrific finish.
I have an online swim coach who comes to town from MA about 3 times a year for inperson lessons as well. His name is Pete Sczupak. His email is: petersczupak@earthlink.net. Pete used to coach in DC and NoVa before he moved to MA and now coaches there. He emails me weekly workouts and I pay him a monthly fee. I also hook up with him for inperson lessons when he is in town. Pete can tailor your race goals with the workouts. I have found this approach effective and flexible bc my pool schedule varies with work and family.
Hope this helps,
Maureen
abbyjs
JOINED: 4/7/09 POSTS: 699
RE: HI! I'm Jake
POSTED: 11/03/11 1:45 PM
Jake: you're amazing.
rojojade
JOINED: 1/19/11 POSTS: 459
RE: HI! I'm Jake
POSTED: 11/03/11 2:32 PM
Hey Jake -
You should totally join the DC Tri Masters Swim program if you already know how to swim. When you swim three times a week, you can't help put get better at it.
I also know the club also has a deal with Wave One, if you want more personal attention.
If you have any questions about the masters program, shoot me a message.
And you are an insane running beast!
-Catharine
siehndel
JOINED: 11/25/05 POSTS: 1104
RE: HI! I'm Jake
POSTED: 11/03/11 6:32 PM
Jake, you're a badass. Looking forward to meeting you.
Travis
Page: 1